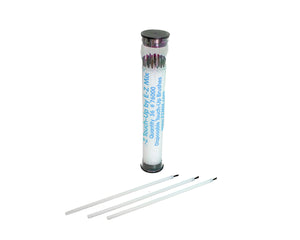 Touch-up Brushes (5 3/4 Inches)

Part#76000-1
36/Tube
Apply paint, adhesives and lubricants in those hard to reach locations with precision, with these touch-up brushes.
Are you meticulous when it comes to details? We understand that sometimes, there is no room for compromise. Every detail matters, so any flaws are a big no-no. Lucky for you, we've devised a solution to help you eliminate flaws from hard-to-reach places. With our Touch-Up Brushes (5 3/4 Inches), you can easily cover up and repair intricate details.
This compact-size tool can help you with retouching paint, distributing lubricants, and applying adhesives. Don't worry about grasping it because the Touch-Up Brushes (5 3/4 Inches) help you wield it with great precision. These brushes have optimal bristles that can reach even the toughest areas. It also has an ergonomic design to attain the best results you aim for. The Touch-Up Brushes (5 3/4 Inches) are also highly durable because they come from top-notch materials. Any challenging areas will no longer be a problem with this tool because they're here to save you.
Here at E-Z Mix, our goal has always been to ensure you achieve your craft with precision and efficiency. Thus, we truly understand the importance of attention to detail. No judgments here. We want you to achieve perfection. Our products are also eco-friendly and are proudly made in the USA. Every leading paint manufacturer out there would recommend us for our commitment to providing premium products.
What are you waiting for? Get your Touch-Up Brushes (5 3/4 Inches) and get rid of those tiny flaws in your craft.