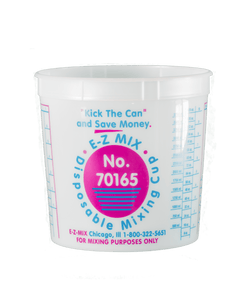 E-Z MIX BRANDED - 5 QUART MIXING CUPS
Part #: 70165
Quantity: 25/Box
Are you struggling to determine the precise proportion to mix your paint? Don't worry; you are not alone. In fact, even professional painters are not capable of doing it right off the bat. There are many tips you can use to say goodbye to uneven color in your project. However, in this case, all it takes is a simple tool to save you from the pitfalls of inconsistent paint. Introducing our 5 Quart Mixing Cups.
Revolutionize your painting experience with this small but incredible tool in your work. Our 5 Quart Mixing Cups have a printed measurement ratio that you can use to guide you through the mixing process. With this cup, you don't have to rely on your gut feeling to identify the amount of paint components you require for your project.
Here at E-Z Mix, we made flawlessly balanced mixtures achievable. Rest assured, you will never risk having to go through color variation issues anymore. We understand the key to quality paint work is an accurate paint mixture, especially when working on a larger task. So, we made a solution for you.
Transferring gallons of paint is no longer tedious. Plus, what sets our 5 Quart Mixing Cups apart from its competitor in the market is its durability. You can use it to extend the time and then throw it away once needed. Not only will you benefit from quality color matching, but cleaning up your workspace will be much easier. Paint like a professional, and get your 5 Quart Mixing Cup today!