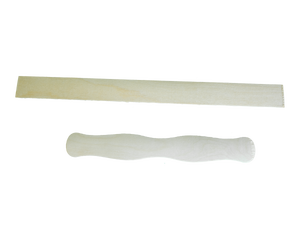 21" Wooden Mixing Stick

Part#21100
100/box
American made, Smooth finish - no splinters, Specially designed to put paint metallics in solution
Getting tired of uneven paint jobs and struggling to make your paint projects smoother? Say hello to your new best friend— the 21" Wooden Paint Sticks. These can ensure a smooth application, giving you that satisfying, flawless finish you dream of.
Don't you just hate it when your paint colors look off? Our 21" Wooden Paint Sticks are great for stirring your paint mixture, ensuring the desired colors come out just right. In addition, these paint sticks come from sturdy wood, which is proven to withstand the test of time. They are worthy investments and versatile tools for your project.
Regardless if you're a professional or not, the quality of your paint mixture will improve. These sticks can make your work pop. Say goodbye to mediocrity now that 21" Wooden Paint Sticks are on the market.
At E-Z Mix, we understand your love for wonderful crafts and arts. We created a product to guide and help you achieve your creative goals. Our 21" Wooden Paint Sticks are resistant to breaking. This is the perfect solution for DIY improvement projects and your professional endeavors.
Stop wasting money on easily disposable tools. Our wooden paint sticks give you exceptional value over your time. Simplify the paint mixing process and make it easy for everyone to contribute to a fantastic project. With precision, ease, and confidence, giving your craft a professional touch is now possible. Grab yours today and unlock a new level of creativity with our E-Z Mix products.