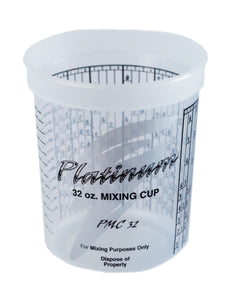 Platinum Branded 1 Qaurt Mixing Cup
PPG Ratios
Part#PMC32
100/BOX
In any paintwork, the importance of mixing cups cannot be understated. You need to mix the reducer, thinner, and activator in their perfect ratio to ensure the quality of your paint before its application. However, using a normal container won't help you achieve this. If you're wondering what the correct mixture of paints is, the answer lies in the 1 QT Platinum Mixing Cups.
Eliminate the guessing game and create the right consistency to color your project. Even professionals rely on the printed mixing ratio that can be found on its side. This way, thanks to its measurement markings, you can determine the right proportion for your paint like a pro. Paint mixing made it a fun and easy task.
What makes the 1 QT Platinum Mixing Cup stand out from the rest of its competitors is its durability. So, if you are looking for a cost-effective product, 1 QT Platinum Mixing Cups will not disappoint you. They are easy to use and clean. You can still use it multiple times and dispose of it whenever.
Are you concerned with your carbon footprint? Choosing our 1 QT Platinum Mixing Cups also means protecting the environment. E-Z Mix prioritizes top-notch quality and eco-friendly products catering to your needs. This is highly advisable by various well-established paint companies in the USA. E-Z Mixing Cups is a great companion to your craftsmanship. Check out more of our products and be one of our satisfied customers!