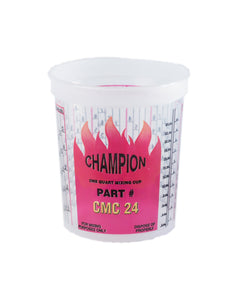 Champion Branded 1 Quart Mixing Cup
Dupont Ratios
Part#CMC24
100/BOX
If you are a newbie or a professional looking for ways to achieve a precise paint mixture, you might want to consider using 1 QT Champion Cup. Finding the right paint mixture is no walk in the park because of the different mixing ratios. But with the 1 QT Champion Cup, achieving precise measurement is no longer like finding a needle in a haystack!
The 1 QT Champion Cup allows you to measure a precise amount of paint-mixing components for your project. Get rid of eyeballing the mixture and know the proper ratios your paint needs. The 1 QT Champion Cull will help you get the exact color you desire. With this disposable mixing container, mixing will never be a tedious part of your craftsmanship. Regardless if you are a rookie, you will feel like an expert.
At E-Z Mix, we understand your need for a product that will save you time and money. That's why we will not disappoint you with our 1 QT Champion Cup. Although it is disposable, you can still reuse it multiple times. This is guaranteed to be a cost-effective and versatile tool, making it popular among DIY enthusiasts and professionals.
It's no surprise most companies recommend using this cup among the other brands. It saves you from the uneven mixture, resulting in a uniform and consistent color scheme for your project. When it comes to paint mixing, the major concern of many is the viscosity of the paint. Using the 1 QT Champion Cup will save you more time adjusting the paint consistency. Get yours today and step up your painting game.