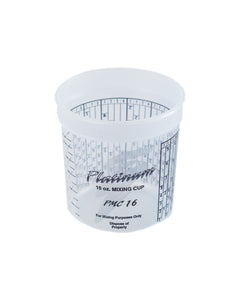 Platinum Branded 1 Pint Mixing Cup
PPG Ratios
Part#PMC16
100/BOX
Planning to paint a wall or a car? It's time for you to know some little information before going out with the things you need. First and foremost, when mixing paint components, you need to be precise with measurements. You don't want uneven colors, do you? Well, your answer is to get yourself our 1 Pint Platinum Cup.
This mixing cup is meticulously marked with measurements and ratios inside and out, making it easy for you to be as accurate as possible. The marked measurements ensure you get the exact color you want while adhering to the manufacturer's recommended portions for your paint components. Additionally, this convenient design eliminates the need for various measuring devices, preventing spills and waste. Our 1 Pint Platinum cup can streamline your paint job while keeping your wallet full. Made from durable materials, you can reuse it multiple times before needing to throw it properly.
What's great about the 1 Pint Platinum Cup is its durability. You can reuse it many times before disposing of it. It is also made from eco-friendly materials, so you no longer need to worry about your carbon footprint. At E-Z Mix, we dedicate ourselves to sustainability without compromising functionality. With this, a multitude of paint companies across the nation would recommend our unwavering commitment to producing top-notch quality products. Our products are also proudly made in the USA.
Check out our 1 Pint Platinum Lids to go with the Platinum Cups. You can cover your paint to avoid specks of dust from falling into it like a champion!