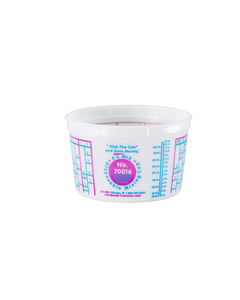 E-Z MIX BRANDED - 1 PINT MIXING CUP
Part # 70016
Quantity: 100/Box
If you're new to painting a wall or a car, you should get the essential tools first. Crafting your paint is not supposed to be rocket science. With the right tools, it can be easy as 1, 2, 3. Here's where the 1 Pint Mixing Cup comes in.
Our mixing cups are ingeniously designed with marked measurements lines and ratios. These guides help you mix components accurately for a higher quality of paint, as recommended by the manufacturers. You can perfectly blend balanced mixtures with precise measurements and avoid color inconsistencies.
Our 1 Pint Mixing Cup is a powerhouse when it comes to efficiency. Marked measurements on the mixing cup itself eliminate the need for other measuring tools. It's your way to prevent mess and spills that can further cause you inconvenience. Streamlining your painting project while keeping your workplace clean is a game changer.
Our mixing cups come from high-quality and eco-friendly materials. Thus, it's durable and safer for the environment. The 1 Pint Mixing Cup is reusable until you can dispose of it properly. Here at E-Z Mix, we have an unending commitment to provide sustainable and top-notch products. This is why most prolific paint companies nationwide recommend us for your painting needs. Our products are also proudly made in the USA, a testament to our unyielding pursuit of the best.
Ready to revolutionize your painting game? Get your 1 Pint Mixing Cup and get our 1 Pint Lid to cover your paint.