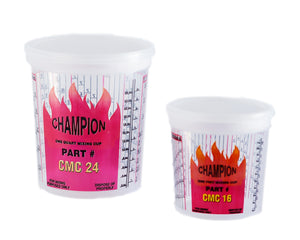 Champion Branded 1 Pint Mixing Cup
Dupont Ratios
Part#CMC16
100/BOX
Whether you're a skilled or a newbie painter, getting the basic needs for paints is best. You must be smart and efficient when taking your paint game to the next level. Here's our secret: the 1 Pint Champion Cup is a must-have for every painter.
Our cups at E-Z Mix cuts paint mixing container costs by 50%. First, our 1 Pint Champion Cup is marked with measurement lines or ratios for you to mix paint components accurately. They are marked outside and inside for you to read easily. This feature helps you follow manufacturer-recommended ratios, resulting in a better-quality paint mixture and ensuring your paint's quality control. Second, with precise measurements of components, you're on your way to having proper mixtures preventing unbalanced colors. Furthermore, this ensures your paint's quality control.
With the 1 Pint Champion Cup, you save time and effort. You no longer need additional tools to mix and pour components because this mixing cup streamlines everything. Additionally, this reduces the chances of making a mess. With no additional tools needed, you eliminate spills and splatters. You can either recycle or dispose of our champion cup properly.
Our 1 Pint Champion Cup is highly durable and made from environmentally-friendly materials. This is why most paint companies nationwide recommend E-Z Mix products. Our dedication to delivering top-notch quality products is our utmost priority. We are also proudly made in the USA, ensuring the best at all times.
Don't forget to check out the 1 Pint Champion Cup Lid to keep your paint safe from dust and microparticles.