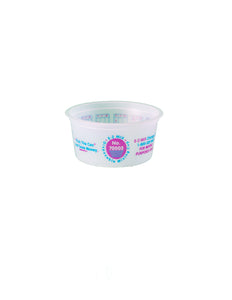 E-Z MIX BRANDED - 1/4 PINT MIXING CUPS - PLASTIC
Part # 70003
Quantity: 200/Box
Couldn't stand the tedious process of paint mixing? If so, you are on the right page. Here at E-Z Mix, we offer incredible solutions to help you easily accomplish these tasks. We introduce our 1/4 Pint Mixing Cups for your paint preparation.
With our mixing cups, you don't have to rely on your gut feeling to measure your paint components. Focus on your project knowing you have accurate paint mixing ratios and be more confident in your craft. Our 1/4 Pint Mixing Cup has printed precise measurement markings for you to mix the proportion ratio of paint.
No more wasted paint due to inaccurate mixing! Our 1/4 Pint Mixing Cups will help you achieve the smooth consistency you want and save you from uneven color dilemmas that could ruin your masterpiece. Plus, it is easily stackable. Therefore,  you can have a breathable and clutter-free workspace. Just bare in mind to use it on a flat surface to prevent any unwanted accident from happening.
E-Z Mix Products have been around for almost a century now. We have already served millions of professionals and DIY enthusiasts and look forward to serving you as well. We have various products that can cater to your specific needs.
Made from high-quality materials, we desire to be your go-to partner in automobile paintwork, ensuring your paint goes exactly as you want. Our paint mixing cup will is the key to having a pro-like craft. So, go to our page and grab your restoration and creation companion today.