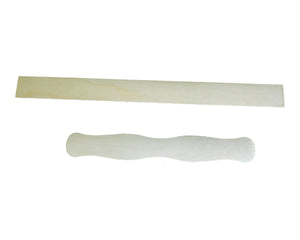 12" Wooden Mixing Stick

Part#121000
1000/box
American made, Smooth finish - no splinters, Specially designed to put paint metallics in solution
Are you about to start a painting project? It's time to introduce our 12" Wooden Paint Sticks! Sometimes, you may find yourself in trouble when your paint mixture isn't smooth enough. The unbalanced color throws you off, and you just want to stop working on your paint project. But hold on, with our wooden paint sticks, you can ensure a smooth application that will leave you in astonishment.
This versatile tool helps you stir your paint mixture flawlessly, whether you're a professional or a one-time painter. It's easy to use because it's sturdy and will not break easily while you mix. They can withstand even the rigors of mixing thick consistency paints and easily blends pigments, solvents, and additives.
Whether you're using a small can of paint or even our big E-Z Mix mixing cups,  these sticks can help you reach the bottom for a thorough mix. And you don't have to worry about your carbon footprint. Our 12" Wooden Paint Sticks are eco-friendly because we believe in a greener future. Yes, we want to figuratively paint the future green. 
Whether you need our 12" Wooden Paint Sticks in a workshop, studio, or construction site doesn't matter. This tool is highly reliable for crafting your paint mixture with precision and ease. Here at E-Z Mix, we understand the importance of high-quality products hence why leading paint manufacturers recommend us. We are also proudly made in the USA.
It's time to invest in our 12" Wooden Paint Sticks to help you in your paint project. Achieve the colors you want as E-Z as 1, 2, 3.