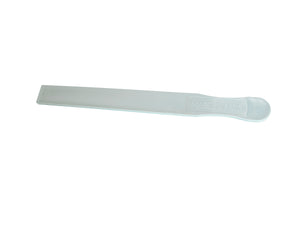 12" Plastic Mixing Stick

Part#12100
100/box
Ideal for waterborne paint mixing, Also work with solvent and resins, Won't absorb solvents or paint, Can be cleaned and reused
If you are about to start a paint project, containers are not enough to give you a desirable paint outcome. It should be crystal clear that paint must not directly apply to your project. You must mix important paint additives into it to ensure you get the right viscosity before its application. In essence, you must pair mixing cups with mixing sticks to serve their purpose.
Introducing our 12" Plastic Mixing Stick to achieve perfectly mixed paint substances. Unlike other mixing sticks, a 12" Plastic Mixing Stick can handle many materials. These include solvents and resins. It works best with waterborne paint. Plus, you can clean our mixing stick after you finish your project! As such, you can still reuse it after using it on your project. This saves you money and helps you reduce the need for single-use alternatives. With its compact size, you can easily store it in your toolbox.
Are you searching for a creative companion? Then, look no further than our 12" Plastic Mixing Stick to make stirring easier. These sticks are essential tools for the paint-mixing process. Make sure everything is thoroughly mixed to have uniform-looking paints. If you are aiming for quality, efficiency, and precision, you are on the right track with our Plastic Mixing Stick.
Have a consistent and safe mixing every time. This is made from high-quality plastic and is proudly made in the USA. Hurry and head on to the E-Z Mix page and take a look at our tools to help you with your success.