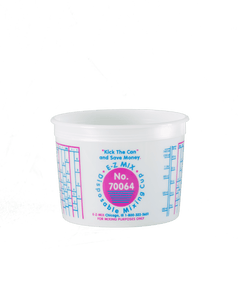 E-Z MIX BRANDED - 2 QUART MIXING CUPS
Part # 70064
Quantity: 50/Box
Thinking of doing a wall or car paint job? Are you particular about the color you want? It's not hard as you might think it is because It doesn't matter if you aim to achieve the aquamarine or burgundy color. All you need is to precisely measure components, which is possible with our 2 Quart Mixing Cups.
With lines and ratios imprinted both inside and outside the cup, you're on your way to getting that complex color you want. Additionally, with the right measurements, expect your paint to be superior quality and pleasing to the eyes. With our 2 Quart Mixing Cup, you don't need additional measuring tools that can further cost you money. You can simply invest in one tool that can even prevent messy spills. Pump up your paint game with this versatile and cost-effective tool. Trust us, and you won't regret it.
All our products come from durable materials. You can use the 2 Quart Mixing Cup multiple times before recycling or disposing of it properly. Don't worry—it's also eco-friendly. We believe in sustainability that can help both our customers and the environment. With this, leading paint manufacturers across the nation would recommend us. We are proudly made in the USA and committed to providing each of you with the highest quality of products.
This product is frequently bought with the 2 Quart Lid to protect your paint from specks of dust and other annoying microparticles.