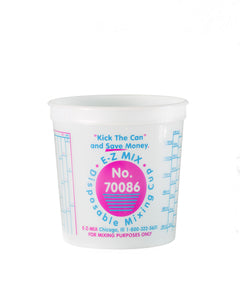 E-Z MIX BRANDED - 2 1/2 QUART MIXING CUPS
Part # 70086
Quantity: 25/Box
How will you prepare your paint precisely before its application to your project? Here's the catch: whether you are a paint expert or not, this task can be challenging at first glance. But today, you don't have to worry about the accuracy of your paint mixture. E-Z Mix made a wonderful solution with this problem in mind: our 2 1/2 Quart Mixing Cup is ready to come to your aid.
With this cup design with printed accurate ratio measurements, you can now ensure you follow manufacturer-recommended portions. After all, no one wants an uneven color to ruin the appearance of their project. 2 ½ Quart Mixing Cup will save you from any minor inconvenience and have more time to focus on your craft.
At E-Z Mix, we understand your desire to create a superior-quality paint mixture. Therefore, we dedicated our expertise to providing you with a 2 1/2 Quart Mixing Cup and accompany you to your success. Our products are known for their durability, designed meticulously with eco-friendly materials. The 2 1/2 Quart Mixing Cup is also available in different sizes to make sure we can cater to all your needs.
Plus, you can purchase lids at our store to protect your paint from dust and unwanted substances. We want you to have a smooth, consistent paint mixture that will last. Even major paint companies worldwide recommend using our products. E-Z Mix products are dedicated to professional or DIY enthusiasts like you. Seize this chance to revolutionize your painting experience.