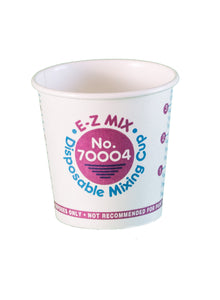 E-Z MIX BRANDED - 1/4 PINT MIXING CUPS - PAPER
Part # 70004
Quantity: 400/Box
Are you starting a new paint job? Are you looking for disposable, small, and efficient tools that are sustainable? We've got what you just need! Our 1/4 Pint Mixing Cups are here to change the game.
First and foremost, our paper mixing cups are durable. Despite being made out of recyclable cardboard—a renewable and biodegradable material—they're designed to withstand the complexity of paint mixing. They can maintain their structure throughout your paint project journey.
With a far lower impact on our precious environment, our 1/4 Pint Mixing Cups do not compromise functionality. They are also lightweight, so you can easily transport them anywhere. Aside from that, our mixing paper cups can be stacked together for you to optimize storage space.
The feature that tops it all off is the measurement lines imprinted on the outside of the mixing cup. You no longer need additional measuring tools. Just use the cup for measurement and simply properly dispose of it after each use. Each cup helps you attain an accurate blend for the color you want. It sounds pleasing, doesn't it? Wait 'til you mix your paint and see it for yourself.
Here at E-Z Mix, we are committed to providing you with products of top-notch quality. We want your projects to be met with efficiency, accuracy, and with ease. This is why leading paint manufacturers nationwide would recommend us for your painting needs. Our products are also proudly made in the USA.