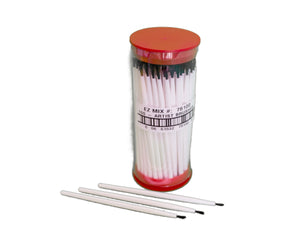 Touch-up Brushes (5 Inches)

Part#76100
100/Tube
Apply paint, adhesives and lubricants in those hard to reach locations with precision, with these touch-up brushes.
Attention to detail is first and foremost when dealing with small scratches and chips. You need something that will allow you to reach those areas and have your paint blend into your possession seamlessly. Did you know a blemish-free surface is possible? That's why we created a product for this problem to help you return your automobile to its former glory. We proudly introduce our Touch-Up Brushes (5 Inches) designed to carry out exceptional touch-up solutions.
Most of the time, tiny details can transform your project. With this in mind, our Touch-up Brushes have fine bristles for you to reach those inaccessible areas. Improve the aesthetics of your automobile in no time by just using our product. Add these important strokes for the flawless and glossy coating of your vehicle.
At E-Z Mix, we believe that even the smallest area can make a difference. Therefore, we dedicated our expertise to crafting our Touch-up Brushes that hold the power to finesse imperfections, proven to capture the essence of meticulous craftsmanship. No wonder our customers have stayed with us for nearly a century.
Now, applying paint, lubricant, and adhesive is a piece of cake. With our E-Z Mix kit, you can keep your brushes in a secure container to help you finish your task in a clutter-free workspace. Plus, it guarantees a smooth application and even coverage. Enhance the overall quality of your work with our indispensable E-Mix companions. Feel free to check our products for a pro-like restoration.