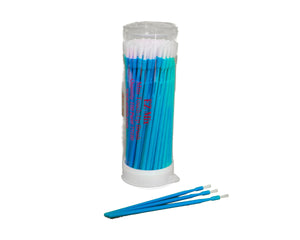 Mini Touch-up Brush

Part#77100
100/Tube
Apply paint, adhesives and lubricants in those hard to reach locations with precision, with these touch-up brushes.
For most of us, pesky imperfections in our paintwork are an eyesore. That's why E-Z Mix has come up with a solution that will benefit both professionals and beginners. Introducing your new restoration buddy: Mini Touch-up Brushes W/ Flex Tip.
Is your vehicle or furniture have those hard-to-reach spots? Don't worry because mini touch-up brushes have got you covered. They are built for you to achieve precision that was once reserved for the pros. These brushes empower you to address those tiny flaws. With its flex tips, unintentional smudge will no longer be your concern. You can now touch up those hardly noticeable areas and give them a fresh look.
Unlike the usual touch-up brushes, we make our E-Z Mix touch-up brush more sturdy. And this will help you have a better grip on it, giving you more freedom to apply your paint cleanly. These mini touch-up brushes are indeed small but mighty. They can easily handle delicate touch-ups, making your project look like an expert did it.
Here's the most important part: not only can you save more time, but you can also save materials! All it takes is little extra attention to the spot you want to fill in. What are you waiting for? Conquer the tiniest details of your project and make it truly shine in perfection. Take your repair skills to new heights with a single brushstroke. Feel free to check all our exceptional products for you on our page.